FDNY Names Teen from Idaho Honorary Firefighter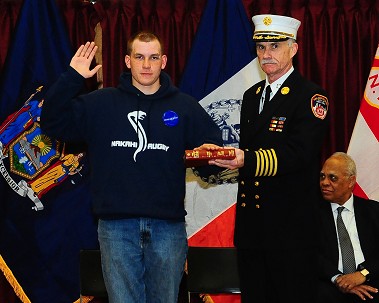 Marcus Musser takes the Oath of Office with Chief of Department Edward Kilduff.
Marcus Musser, 18, beat cancer last autumn. He is a firefighter in training at his high school in Idaho and works with the Meridian Fire Department, but says his dream is to become a firefighter in New York City. On April 1, he got to be one as part of the Make-a-Wish Foundation.
After taking a tour of the facilities on Randalls Island – and getting to try the chauffeur simulator – he and his family received a big surprise. They were led into an auditorium full of probationary firefighters with Fire Commissioner Salvatore Cassano, Chief of Department Edward Kilduff, Chief of Training Thomas Galvin and Deputy Commissioner for Administration Doug White on stage, ready to swear him in as an Honorary Firefighter.
"We're welcoming another firefighter into our family," Fire Commissioner Salvatore Cassano said. "I couldn't think of a better person to be a New York City firefighter."
Chief of Department Edward Kilduff told the young man the Probationary Firefighters "feel an allegiance to you. I know you have the same mindset they do."
Marcus Musser, in full bunker gear, with Fire Commissioner Salvatore Cassano.
Marcus took the official Oath of Office and was given a badge, as well as a sweatshirt and hat. Afterwards, the Probationary Firefighters gave him a five minute standing ovation.
His family, including his father, Wes, mother, Jill, twin brother, Matt, and brother, Max, 14, all were surprised by the event.
"Awesome is the best word to describe this, it's far more than we expected," Mr. Musser said. "This is more than a wish; it's a dream for him."
Marcus then was dressed in bunker gear and taken through a series of training exercises.
Just before he was walked out the door by a drill instructor, Marcus said, "This is overwhelming. My mentors tell me the FDNY is the best of the best, and this is living up to everything."