FDNY Firefighters Raise Money for Children's Cancer Charities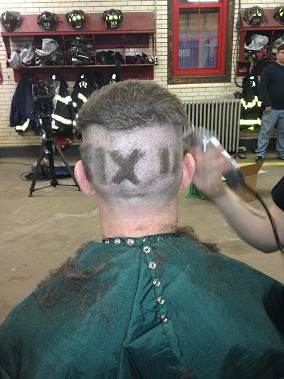 Fire Capt. Brian Ott gets his head shaved
If you see a number of firefighters with cleanly shaven heads in Queens, there's a reason. They participated in the St. Baldrick's Foundation head-shaving event coordinated by FDNY Firefighter Wayne Forte from Ladder 164.
"There's a lot of legwork involved, but it's worth it," Firefighter Forte said.
The annual event, held around St. Patrick's Day, raises money for childhood cancer research. All participants raise or donate money for the cause, then shave their heads.
After participating for six years, then planning events for the last five years in East Northport, Firefighter Forte started organizing the event at Engine 313/Ladder 164 in Queens in 2013.
About 25 members from Battalion 53 participated this year, raising around $5,000, and he hopes to more than double those numbers next year.
He got involved with the project after taking his sons, Kevin, 13, and Kody, 10, to a Northport head-shave several years ago. His kids thought it was a great idea and Firefighter Forte said, "Ok, let's do it."
He talked with Northport Fire Chief John McKenna, who coordinated the event, and asked how he could get involved. The Chief told him to start his own event.
"I looked at him like he had two heads," Firefighter Forte said. "I didn't know if I could do that."
But after five years, he now is recruiting more than 200 people to shave their heads at the event, raising about $70,000.
He hopes to make the FDNY event just as large in the next few years. Learn more?