[Share]
Published: February 27, 2014
Off-Duty FDNY EMTs Save NYPD Officer Shot in Brooklyn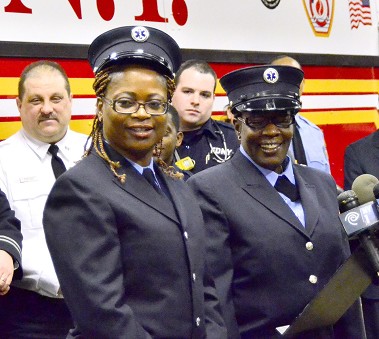 EMTs Shaun Alexander (left) and Khadijah Hall speak about how they saved a police officer who was shot in the line of duty in Brooklyn.
Party planning and a quick phone call allowed off-duty EMTs Khadijah Hall and Shaun Alexander to save a Brooklyn police officer who was shot in the line of duty on Feb. 26.
"We do this every day, many of us do, this is our job," EMT Alexander said on Feb. 27. "We're not heroes, this is our job."
The EMTs from Station 58 planned to meet in a fast food restaurant's parking lot at around 5 p.m., before heading out to look at venues for a coworker's upcoming retirement party.
As they started to leave, EMT Hall took a quick phone call from a friend.
Within seconds, they heard two shots, then looked up to see a man running down the street, shooting at two police officers who were pursuing him.
They then saw one police officer drop to the ground, 15 feet from EMT Hall's car.
EMT Alexander said, "I don't believe this, do you have gloves?"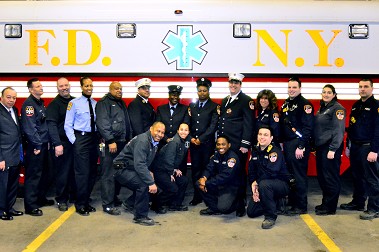 EMTs Shaun Alexander and Khadijah Hall with the members of Station 58 in Brooklyn.
EMT Hall recently refreshed a technician's bag that she kept in her trunk, refilling it with essential first aid tools. As she went to grab it, EMT Alexander ran to the officer's side, identifying them as FDNY EMTs who would help as they waited for an ambulance.
She assessed he was shot in his leg, so she cut his trousers as EMT Hall applied dressing.
"He asked, 'Am I going to be ok,'" EMT Hall said, noting the officer remained very calm, but also, understandably, was nervous. "I assured him he would be fine."
Soon after, Paramedics Timothy Bittar and Trinh Dinh, Station 38, arrived and transported the officer to Kings County Hospital.
Deputy Chief Alvin Suriel referred to EMTs Hall and Alexander as "outstanding members" of the FDNY.
Both women said they simply were happy they could help, stressing they often respond to emergencies, such as car accidents, while off duty.
EMT Hall added, "This is second nature, it's just who we are."