[Share]
Published: February 18, 2014
EMS Lieutenants Promoted, Paramedics Graduate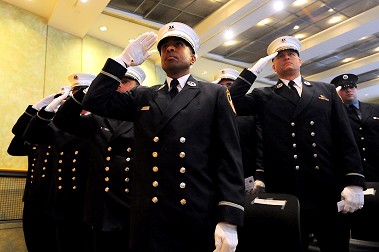 The newly promoted lieutenants and graduating paramedics during the ceremony.
FDNY members celebrated at FDNY Headquarters on Feb. 18, as ten EMS lieutenants were promoted and seven paramedics graduated.
"This is an important moment for all of you, the Bureau of EMS and the entire Department," Fire Commissioner Salvatore Cassano said. "As first responders, you are the best."
Chief of Department Edward Kilduff added, "You have reached a milestone in your professional careers and you have a lot to be proud of."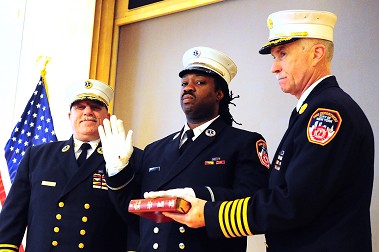 Dwight Scott takes the Oath of Office for his promotion to lieutenant during the ceremony.
The newly promoted officers represent more than 174 years of experience with the Department.
"I'm extremely proud to have you all here today," Chief of EMS Abdo Nahmod said. "Don't be afraid to ask questions."
Among those promoted was Lt. Mario Thompkins, who joined the FDNY as an EMT in 2006.
"This is an absolute honor," he said. "This is a very proud day for me and my family."