[Share]
Published: February 14, 2014
FDNY Firefighters Rescue Family From Attacker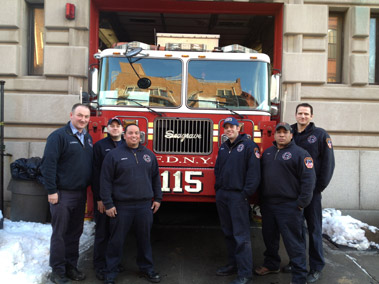 (L to R) Lt. Brendan Connolly, FF Nick Nugent, FF Danny Morales, FF Ronald Donati, FF Leo Lopez and FF Steve Tomocic.
FDNY firefighters from Ladder 115 were in the right place at the right time on Feb. 14, helping save a woman and two children from an attacker in Queens.
As Lt. Brendan Connolly, and Firefighters Ronald Donati, Leo Lopez, Daniel Morales, Nicholas Nugent and Steven Tomicic were driving through Astoria on their way back to the firehouse, they saw a boy waving to the truck.
"We like to wave to little kids," Firefighter Leo Lopez said. "But as soon as we waved to him, he stopped. Then we saw a lady calling for help."
He immediately shouted to stop the truck and hopped off. The woman was pointing to a man dragging a young girl down the street.
Firefighter Lopez called to the man to stop, but he kept moving.
"He was on a mission," said Firefighter Lopez. "We weren't sure what he wanted to do."
The firefighters ran towards the man, who was large and appeared inebriated, and made a barrier between him and the woman and children.
As Firefighters Donati, Morales, Nugent and Tomicic kept the man cornered, Lt. Connolly and Firefighter Lopez talked to the family. They tried to figure out what had happened and distract the kids by talking about things like school and their sneakers.
The boy told them he someday wants to be a firefighter, and the girl said she wants to be a police officer.
"The mother was scared for her life," Lt. Connolly said. "But these guys are built like linebackers, and they kept him at bay until police arrived."
The man was taken into custody by police officers from the 114 Precinct.
"We just tried to make the situation better for them," Firefighter Lopez said. "I'm just glad we were there … sometimes things happen for a reason."