FDNY Celebrates Its Bone Marrow Donors with 10th Annual Honor Roll of Life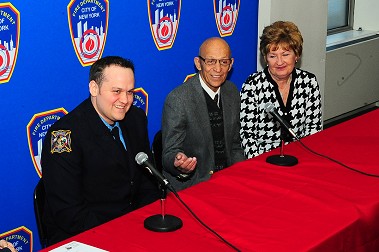 Firefighter Christopher Howard, Engine 255, with the recipient of his bone marrow, John Ciempa, and his wife Debra.
The men and women of the FDNY are known for saving lives as part of their job, but it's the life saving work they do while off-duty that was celebrated on Jan. 29 at the 10th annual Honor Roll of Life ceremony.
The event not only honored those who have donated bone marrow in 2012, but also introduced Firefighter Christopher Howard, Engine 255, with the recipient of his bone marrow, John Ciempa, 66, from Lakeland, Florida. Firefighter Billy Zask, Jr., of Squad 288, also was reunited with the recipient of his bone marrow donation – Alex Maldonado, 9, of Puerto Rico.
"What a celebration of life today," Fire Commissioner Salvatore Cassano said. "We strongly support this program, because the core mission of this Department is to save lives."
Dr. Christopher Hillyer, President and CEO of New York Blood Center added, "Thank you for supporting us in so many ways."
In 2010, Mr. Ciempa was diagnosed with Myelodysplastic Syndrome, a rare bone marrow disorder in which the bone marrow does not produce enough healthy blood cells. After several months of chemotherapy, he was told that without a bone marrow match he would only have three- to six-months to live.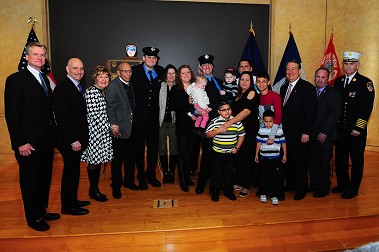 The Firefighters who were reunited with their bone marrow recipients, including FF Howard and Mr. Ciempa and Firefighter Billy Zask, Jr., and Alex Maldonado, and their families, along with FDNY Commissioner, Chief of Department and NY Blood Center representatives.
Firefighter Howard donated his bone marrow in 2012, and Mr. Ciempa received the transplant that May.
When they met, the two men hugged and Mr. Ciempa said he was speechless. "Everything he has done for me … he saved my life."
He said going through months of chemotherapy and two months in the hospital was difficult, challenging him mentally and physically, but he tried to stay upbeat. His wife, Debra, said she would leave the hospital each night and, "not know if I was going to get that call."
Mr. Ciempa said, "at that time I was trying to make peace with my maker, I really didn't think I would survive it. But [Firefighter Howard's] stem cells kept me going."
Firefighter Howard, who attended the event with his wife, Marisa, and son, Johnny, said he was overwhelmed by meeting Mr. Ciempa.
The firefighter, who joined the Department in 2005, is the son of George Howard, a Port Authority Police Officer who was killed at the World Trade Center on Sept. 11, 2001. He also was friends with Firefighter Terry Farrell, one of the earliest FDNY bone marrow donors who also died on Sept. 11.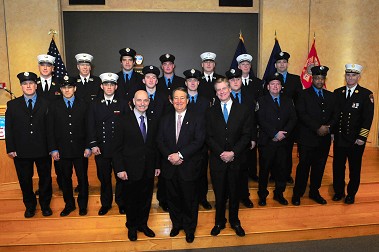 The FDNY members who donated bone marrow in 2013.
So when he got the call to donate, "There was no way I was going to say no. I carry on my dad's legacy with what I do and Terry's legacy with this."
When asked if the process was painful for him, he said the process was uncomfortable, but, "whatever I felt didn't bother me, because I knew the other person was in much more pain than me."
At the same event, Firefighter Zask was reunited with Alex Maldonado, who was diagnosed with Osteopetrosis Renal Tubular Acidosis, a life-threatening condition, when he was two. Three days before his third birthday, Alex received the life-saving transplant from Firefighter Zask. The pair first met in 2008.
Those honored for donating bone marrow in 2013 included Capt. Charles Buser, Lt. James McCarren, Lt. Joseph McGovern, Lt. Francis Cummins, Firefighter Michael Carroll, Firefighter Joseph Sanger, Firefighter Anthony Gazzara, Firefighter Fredrick Perdue, Firefighter John Schroeder, Firefighter Vincent Mirando, Firefighter Keith Jackson, Firefighter Thomas Gonzalez, Firefighter Marlon Byrne and EMT Nicholas Morisano.
As the event ended, Firefighter Howard and Mr. Ciempa exchanged gifts – Firefighter Howard gave him and his wife a bracelet that honored Firefighter Howard's father. Mr. Ciempa gave the Firefighter a guardian angel that was blessed by his priest.
The pair noted that they considered one another family now. And the firefighter said he was looking forward to taking the Floridians for some New York pizza, while Mr. Ciempa said, "I can't believe how tall he is, I come up to his belly button. I hope his bone marrow gave me some good genes so I can grow … and maybe get some hair."
Sign up to be a bone marrow donor at BeTheMatch.org or call 1-800-MARROW-2.
?