FDNY Swears in 322 Probationary Firefighters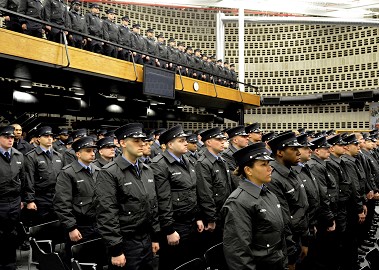 The Probationary Firefighters prepare to take the Oath of Office at the Fire Academy.
FDNY swore in 322 Probationary Firefighters on Jan. 27. The group will receive 18 weeks of intense training at the Fire Academy.
"This is an important day for all of you – for all of us – and a day you will never forget," Fire Commissioner Salvatore Cassano said. "You will never regret a moment you spend in this Department."
Probationary Firefighter Raheem Hassan took the Oath of Office on stage for the group.
The former FDNY EMT first entered the Fire Academy in January 2013, just a few months after Hurricane Sandy severely damaged his home.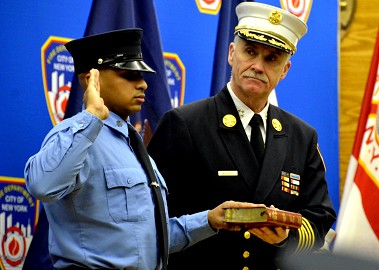 Chief of Department Edward Kilduff stands with Probationary Firefighter Raheem Hassan as he takes the Oath of Office.
While his wife and child lived elsewhere, Probationary Firefighter Hassan worked nights and weekends to rebuild. Soon the members of his class learned of his situation and pitched in to help.
When Probationary Firefighter Hassan had to leave the Fire Academy when he was deployed with the U.S. Navy, his classmates continued work on the house and supported his family while he was away.
"This is the best facility in the world for firefighter training," Chief of Department Edward Kilduff said to the group. "Enjoy your time here, it's a special experience."