FDNY Fire Marshals Arrest Two for Conspiracy to Set a Fire in Apartment Building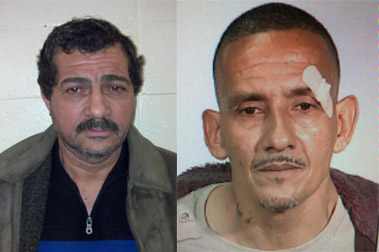 Abderraham Mouna (left) and Jose Andujar.
FDNY announced on Jan. 20 the arrest of two men for conspiring to set a fire in a Brooklyn apartment building in May 2013.
Fire Marshals arrested Abderraham "Abdul" Mouna, 53, and Jose "Pancho" Andujar, 50, for their roles in a fire on May 8, 2013, at 543 Union St., a four-story building with a commercial business on the first floor and residential apartments on the floors above.
"Arson is a crime which puts the lives of residents and Firefighters in grave danger," said Fire Commissioner Salvatore Cassano. "Through their outstanding investigative efforts, FDNY Fire Marshals have apprehended two individuals whose actions clearly demonstrated a callous disregard for human life."
Following an exhaustive months-long investigation, Fire Marshals determined that Mr. Mouna, the owner and operator of Executive Bus Charter – currently located at 318 Nevins Street in Brooklyn – hired Mr. Andujar for a fee of $500 to set a fire in response to an ongoing dispute between Mr. Mouna and area residents over parking issues created by his idling Executive Charter buses. (At the time of the fire, Executive Bus Charter was located at 301 Nevins Street, directly across from the fire building.)
On May 8, 2013, at approximately 3 a.m., Mr. Andujar broke a window of the business on the first floor of 543 Union St., poured a flammable liquid onto the floor and ignited it. Thankfully, the fire quickly burned itself out without spreading further. Later that morning, the business owner called 911 to report the damage and Fire Marshals began their investigation.
Mr. Mouna and Mr. Andujar are charged with arson, conspiracy and reckless endangerment.
During the investigation, Fire Marshals worked closely with the Brooklyn District Attorney's Office, who will prosecute the case. Both defendants are presumed innocent until proven guilty in a court of law.