FDNY EMS Lieutenant to Travel to Nigeria to Help Teach Emergency Medicine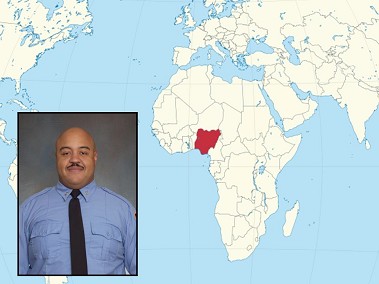 Lt. Nathaniel Mitchell
FDNY EMS Lt. Nathaniel Mitchell is an experienced emergency medical provider, working in the Bureau of EMS for more than 25 years, as well as spending 13 years providing medical care on five deployments with the U.S. Navy. He also is an experienced educator, teaching emergency medicine everywhere from Louisiana and Virginia to Iraq and Afghanistan.
So it comes as no surprise that he jumped at the chance to teach in another far-away locale – Ibadan, Nigeria – in late January.
The Lieutenant from Station 26 is volunteering his time to travel to the African nation, spending eight days teaching advanced and basic life support classes, with an emphasis on cardiac care, at the Ibadan College of Medicine. Students will include both medical providers and instructors.
"When I had the opportunity, I thought, 'Let me go for it,'" he said. "I save vacation for things like this, so I don't have to think, I can just do it."
The Ibadan College of Medicine Alumni Association of North America supplied a number of training tools that Lt. Mitchell will take with him, including mannequins, cardiac monitors, advanced cardiovascular life support equipment and automated external defibrillator trainers. He will train the group on the tools, then leave them behind for the school.
"My luggage will be filled to the brim," he said. "The equipment will give them the foot forward to provide their own training in the future."
He said he also is a biomedical technician, so he will show them how to fix the equipment, if necessary.
Inspiration for the trip came, in part, due to his time in Afghanistan with the Navy. He said in 2004-5 he was on a medivac mission, where he helped transport children to receive special surgeries. He said they would work in the middle of the night, so to not raise questions or suspicions, and return the children home in the same way.
He said he saw many doctors and medics in the country were undertrained in emergency care, noting, "After that I wanted to make sure we got everyone on the same page."
As he prepares for his trip, he said he is excited to get started, and is learning a lot about Nigeria from a colleague at his EMS station who is from there.
"I expect [the trip] to be enlightening," he said. "I'm looking forward to it."