High-Rise Building Safety Urged After Fatal Fire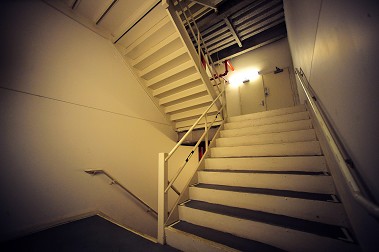 An exit stairwell (not from the fire building).
FDNY Fire Safety Education members were at 500 W. 43rd St. in Manhattan on Jan. 6, to help educate the public about fire safety in high-rise buildings.
"Fire is dangerous, but the smoke it produces is, too," Chief of Operations James Esposito said. "It is critical this message resonates."
A 3-alarm fire at the Midtown apartment building on Jan. 5 killed one man who was overcome with smoke while trying to flee through the stairwell.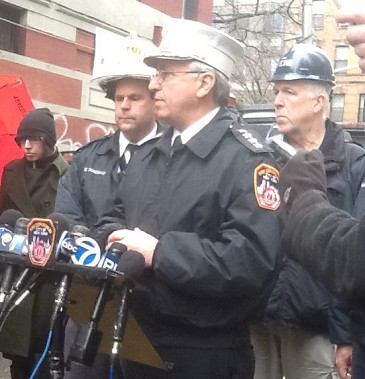 Chief of Operations James Esposito talks to the media about high-rise fire safety.
The FDNY urges all residents of high-rise buildings
to do the following in case of fire:
If the fire is in your apartment:

Leave immediately and close the door behind you.
Call 911 once you are out of the apartment.

If the fire is not in your apartment:

Stay in your apartment. Buildings above seven floors are fireproof.
Call the FDNY, let them know you are there. The FDNY will come to your apartment
You also can call building management, which will be updated by the Fire
Department.
Keep your door closed. If smoke is coming into your apartment, put a wet
towel below your door.

"Your natural instinct is to flee, but that is dangerous,"
Chief Esposito said. "People need to help themselves, and use this information
to protect their families."

Learn more about high-rise fire safey or what to do
if you live in a non-fireproof building (a building less than seven-stories).
For these and other tips, read FDNY fire safety materials.