FDNY Promotes 83 Fire Officers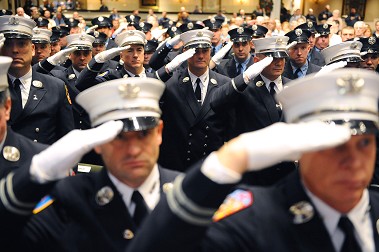 The newly promoted members.
The FDNY started 2014 in a special way, promoting 83 fire officers on Jan. 2.
"This is an important ceremony for the Department," Fire Commissioner Salvatore Cassano said during the event at the Christian Cultural Center. "It's a new year with new challenges we must meet head on. And you are taking on new roles to help with our mission."
Seventeen members were promoted to battalion chief, 15 to the rank of captain, one to supervising fire marshal, 45 to the rank of lieutenant, and five to wiper.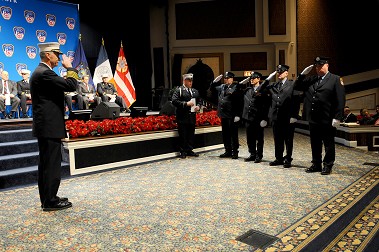 The new Marine Wipers salute Chief of Department Edward Kilduff before they were promoted.
The crowd cheered loudly and posted banners congratulating their friends and family who were promoted.
The members will be assigned to units throughout the five boroughs.
"This turnout demonstrates how strong we are as a group – it's a great way to kick off 2014," Chief of Department Edward Kilduff said. He then offered the newly promoted members advice, "We need to be ready for anything, ready to serve the city at any time."