[Share]
Published: December 27, 2013
FDNY Firefighters and EMS Members Save Boy in Cardiac Arrest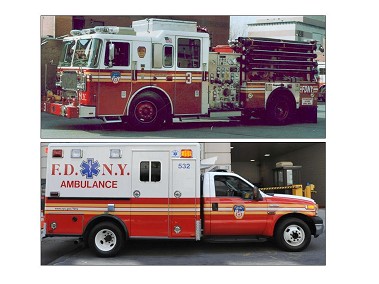 FDNY firefighters and EMS members saved the life of a young boy in Manhattan on Dec. 26.
After receiving the call around 8 a.m., firefighters from Engine 3 and EMS members rushed to the home.
"As soon as the elevator opened I heard yelling," Capt. Patrick Williams, Engine 3, said. "So right away we knew it was serious."
The boy was lying on the ground and his mother was doing CPR.
Capt. Williams and Firefighters Steven Adorno, Steven Dulski, Charles Downs and David Summerfield took over chest compressions and rescue breathing.
Moments later, Paramedics Gregory Companion and Christell Cadet arrived. They took over and were able to restore his pulse and breathing before transporting him to Bellevue Hospital.
Paramedic Companion said on the way to the hospital, the boy continued to improve and he was crying by the time they arrived.
"Everyone worked as a giant team and worked perfectly," he said. "It was a long day, but it was rewarding, worked out nicely."
He also noted that Paramedic Cadet just graduated from the EMS Academy on Dec. 6, and this was her first cardiac arrest save.
The firefighters also had a busy day, rushing to save another cardiac arrest victim just a few hours later.
Everyone noted that that early CPR from the child's mother helped save his life. Read how you can learn CPR for free from the FDNY.