[Share]
Published: December 24, 2013
Off-Duty FDNY Firefighter, Fire Company Save Man in Cardiac Arrest in the Bronx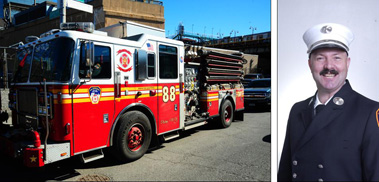 Engine 88 and Lt. Rudy Goop
Off-duty FDNY Lt. Rudy Goop thought the morning of Dec. 23 would only involve a little food shopping for Christmas. Little did he know, he and the members of Engine 88 also would save a life.
"All I did was what I'm trained to do," he said. "This is what we do every day; I just was off duty today."
At around 9:30 a.m., after waiting in line for 30 minutes, Lt. Goop (Engine 46) and his 17-year-old son Andreas had just made it inside the door of a cheese shop on Arthur Avenue when they heard a woman scream.
He looked outside and saw commotion at the end of the same line, so he told his son to continue waiting and he ran to help.
A man in his 60s was lying on the sidewalk with blood coming from the back of his head. The man was not breathing and had no pulse, so Lt. Goop immediately started chest compressions.
Other people started trying to help, saying they had called 911 and offering to assist with CPR.
Within two minutes, the members of Engine 88, including Capt. Richard Kirschner, and Firefighters Martin Tighe, Michael Dolan, James Murphy and Christopher Murray, drove down the street.
The firefighters, many of whom Lt. Goop knew, grabbed their gear and took over chest compressions. Lt. Goop said he was going to then help firefighters set up the defibrillator, but "they were so quick, they already had it applied and ready. It was great; they were right on top of it."
Capt. Kirschner said about 50 to 100 people were standing around watching, "it put more pressure on the firefighters, but it is nice to know it all worked out well and that so many people were able to see an off-duty firefighter and a fire company save a life just two days before Christmas."
The device advised that it was going to shock the patient, which brought back his pulse and breathing just as EMS members from a local hospital arrived.
"I would have been in the way at that point," Lt. Goop said. "So I just got back in line."
He said he was thrilled to learn that the victim, who was transported to St. Barnabas, was doing well hours later.
"This proves CPR works," Lt. Goop said. He also joked that, "I hope my family likes [the cheese] on Christmas, and I have this great story to tell."
The FDNY offers free CPR training. Learn more about how you can save a life.