[Share]
Published: December 06, 2013
FDNY EMS Members Graduate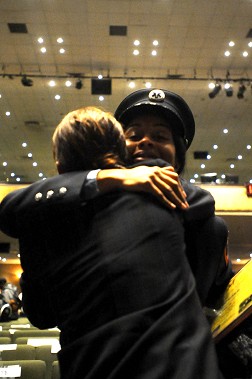 Friends and family cheered as 161 FDNY paramedics and EMTs graduated from the Academy on Dec. 6.
"It makes me so proud to stand here looking out at all of you, and realize the tremendous commitment, dedication and perseverance it took for you to reach this moment," Fire Commissioner Salvatore Cassano said during the ceremony at the Christian Cultural Center. "You have the best training possible, and you have that drive and motivation to make a difference in this city on every tour."
Fifty-two paramedics graduated, including valedictorians Paramedics Jonathan Jesensky and Melanie Moreno; as well as 109 EMTs, including valedictorians EMT William Curley and Johanna Marini.
"You bring spirit and vitality to the Department," Chief of Department Edward Kilduff said. "You represent the FDNY, there's nothing better than that."
Among the graduates were three who lost a family member in service to the Department, including EMT Stephen Endres, nephew of Firefighter John Burnside, and EMT Danielle Taccetta, niece of Firefighter Lenny Ragaglia, both of whom were killed on Sept. 11. Also EMT Matthew Whelehan, son of Firefighter Chris Whelehan, who died due to an illness related to his work at the World Trade Center site.
Thirteen of the members served in the U.S. Armed Forces and were deployed around the world. Five of the new FDNY members are graduates of the FDNY High School for Fire and Life Safety.
"Your greatness can come from simply improving a patient's quality of life," said Chief of EMS Abdo Nahmod, who poignantly quoted Nelson Mandela in his speech. "We all wish you a lot of luck in the field. We know you'll do a great job."