[Share]
Published: December 05, 2013
FDNY Graduates 242 Probationary Firefighters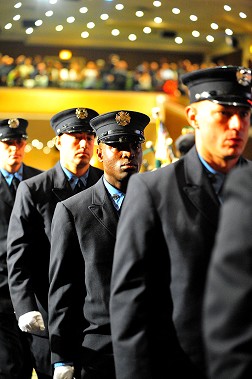 The 242 Probationary Firefighters during their graduation ceremony.
FDNY members welcomed 242 outstanding new Probationary Firefighters on Dec. 5.
"I'm confident that this graduating class is as prepared as any to make their own contributions to the storied legacy of the New York City Fire Department," Mayor Michael Bloomberg said during the ceremony at the Christian Cultural Center in Brooklyn. "It's an honor to be your mayor. Thank you for your service, and congratulations on reaching this milestone."
This class was noted to be the most diverse in FDNY history, with 62 percent of its members identifying as minorities.
"You've proven to your instructors that you have what it takes to be New York City firefighters, and, just as importantly, you proved it to yourselves as well," Fire Commissioner Salvatore Cassano said.
Chief of Department Edward Kilduff provided advice, saying, "Being a member of a team from day one, that's the nature of this job. You have earned the honor of calling yourself an FDNY firefighter."
Among the graduates were 35 who served in the military and eight who had a family member who died in the line of duty.
Probationary Firefighter Connor Geraghty, whose father, Chief Ed Geraghty died on Sept. 11, 2001, was named Valedictorian of the class. The Salutatorian was Probationary Firefighter Sean McCarthy and the Physical Fitness Award was given to Probationary Firefighter Fernando Rodrigues.
"This is the culmination of an 18-week journey, we started as strangers and became brothers and sisters" Probationary Firefighter Geraghty said.
He described his father as modest, remembering a stamp on his desk that read, 'Stay Humble, Stay Teachable.' The new FDNY member said he always wanted to become a firefighter, and "We have, without a doubt, hit the lotto with this job."
Probationary Firefighter Dwayne Hill, who previously served in Iraq with the U.S. Army, agreed, saying, "[The Fire Department] feels like family." He then added, "I served my country, now I'm looking forward to serving my city, too."
Looking around the room, Probationary Firefighter Stephen Howard described his happiness simply, "I still feel like I'm dreaming."