[Share]
Published: November 26, 2013
Engine 283 Celebrates 100 Years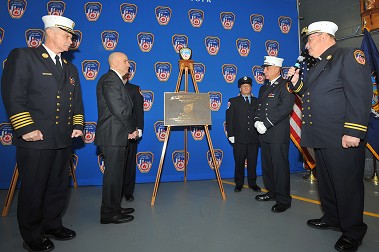 The centennial plaque is dedicated.
Just days before celebrating Thanksgiving, the past and present members of Engine 283 in Brooklyn marked a special day in the firehouse history, their centennial.

"One hundred years ago today, the first firefighters of Engine Company 283 responded to a call for help," Fire Commissioner Salvatore Cassano said on Nov. 26. "When they did, they started a tradition of service and bravery that have been hallmarks of this company every day since."

The Commissioner noted he worked in the firehouse many times when he was a firefighter, covering officer and chief.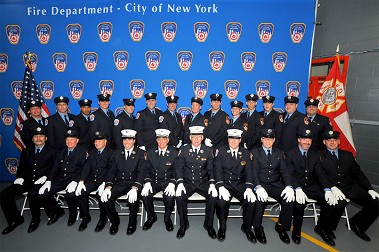 The members of Engine 283.
"When the alarm goes off, Firefighters here rush out the door to help someone in need," Chief of Department Edward Kilduff said. "That's what we're really celebrating here – not only a number of years – but all of the lives you've touched."
Capt. John Burke added: "There is no job too big or small when protecting life and property. Congratulations on a hundred years of keeping Brownsville safe."