[Share]
Published: November 22, 2013
FDNY Swears in New Chaplain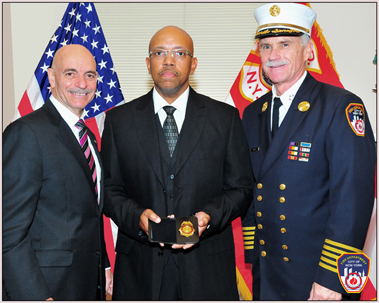 Rev. V. Simpson Turner with Fire Commissioner Salvatore Cassano and Chief of Department Edward Kilduff after he was sworn in.
The FDNY welcomed a distinguished new member on Nov. 22, Rev. V. Simpson Turner, as Department chaplain.
"Chaplains are an important part of the work our members do, offering inspiration and guidance," Fire Commissioner Salvatore Cassano said. "We're eager to bring his experience and energy to the Department."
He has been pastor of the Mt. Carmel Baptist Church in Brooklyn for the last 16 years, where his father worked before him.
He also has a long history of city service, working as a chaplain for the New York City Department of Correction and New York City Sheriff's Office, as well as a New York City school teacher.
"The peace and comfort received from FDNY chaplains really brings the Department together," Chief of Department Edward Kilduff said. "We look forward to the great relationship we'll develop with you as part of our team."
Rev. Turner joins six other FDNY chaplains offering spiritual support for all members of the FDNY.
"I'm excited at the prospect of interacting with the men and women of this agency," he said. "And I am honored to have been selected."