[Share]
Published: November 21, 2013
Engine 268/Ladder 137 Celebrate Centennial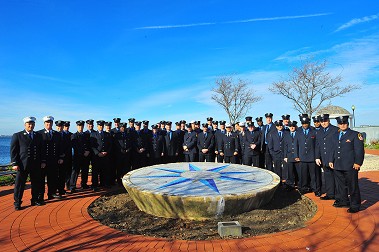 The members of Engine 268/Ladder 137 in front of a 9/11 memorial mosaic they created in a park near the firehouse.
FDNY members from Engine 268 and Ladder 137 celebrated a milestone on Nov. 21, 100 years of service to the Rockaway, Queens, community.
"No matter what day or night, this firehouse rises to the occasion," Fire Commissioner Salvatore Cassano said. "Because of your dedication and commitment, we know you're ready for anything, just like you have been for the last 100 years."
Many commented on the amazing work the members of the firehouse did the night Hurricane Sandy hit New York City. Earning members awards at the 2013 Medal Day ceremony.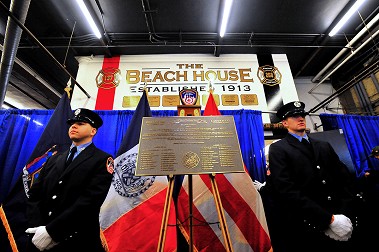 The centennial plaque with the Honor Guard.
"The legacy of this firehouse is made by the unique duties, skills and knowledge you have," Chief of Department Edward Kilduff said. "You are continuing a long, great tradition of duty, commitment and service."
Capt. Richard McDonagh, Ladder 137, praised the members of the firehouse for their great work over the years, "You make me proud to be a member of this firehouse, where the proud tradition will continue for the next 100 years."