[Share]
Published: November 12, 2013
Administrative Awards Ceremony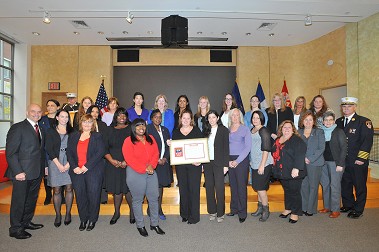 The FDNY members who helped run the successful Hurricane Sandy Call Center.
View the 2013 Administrative Medals & Awards Book
The FDNY honored diligent work and dedication on Nov. 12 at the Administrative Medals and Awards ceremony at Headquarters.
"All of you are important to the Department's mission to protect the life and property of the people of New York," Fire Commissioner Salvatore Cassano said. "What you do to support the members in the field is nothing short of remarkable."
Among the winners were members of the Risk Based Inspection System, who won the Administration Medal for their work to improve building inspection technology; the Leon Lowenstein Award was presented to Lt. Michael Wilbur and Andrew Diamond, who work to keep FDNY members safe with the Ready-Reach Seatbelt Initiative; the George F. Mand Award was presented to Gurpreet Singh Hans, who coordinated projects that power FDNY facilities; the Hurricane Sandy Call Center received the Fire Commissioner's Award for Outstanding Service, for their work supporting FDNY members after the 2012 storm; and the FDNY Candidate Investigation Division received a Fire Commissioner's Award for Meritorious Service for their work processing new staff.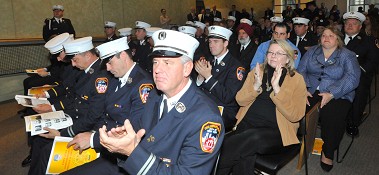 Eighteen Awards were presented to civilian and uniformed members throughout the Department for their hard work.
"This ceremony is honoring good, old fashioned hard work," Chief of Department Edward Kilduff said. "Thank you for the work you do year in and year out for this Department."
Eighteen awards were presented to uniformed and civilian staff from throughout the city in the annual ceremony.