[Share]
Published: November 01, 2013
Engine 94/Ladder 48 Celebrate Centennial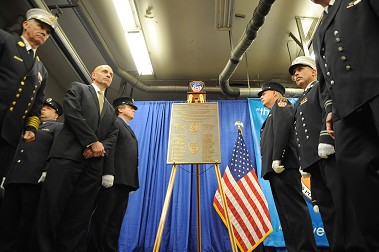 The centennial plaque is dedicated at Engine 94/Ladder 48.
Firefighters from Engine 91/Ladder 48 in the Bronx had reason to celebrate on Nov. 1 as their firehouse turned 100 years old.
"The opening of this firehouse was an important chapter in our history," Fire Commissioner Salvatore Cassano said. "This firehouse was a sign of our ever-growing city and a sign we'd protect this community no mater what time of day, weather or situation."
He noted that the firehouse, as were many in the Bronx, was established as the area changed from farmland to a residential community.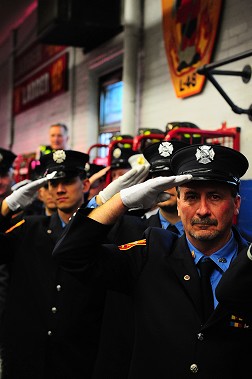 Many current and former members attended the event.
"You represent all that is good about this city," Chief of Department Edward Kilduff said. "You protect this community and make it safer."
During the ceremony a plaque was dedicated for Firefighter John Carroll, Ladder 48, who died in the line of duty in April 1935.
"Coming to work here was a dream come true," Firefighter Edward Brown, Ladder 48, said. "Everyone here made the job fun. We were a family."