FDNY Take Part in Running Challenge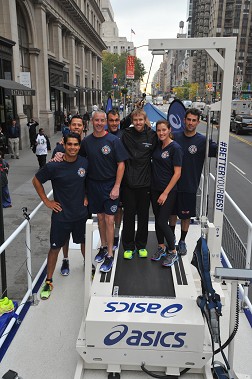 The FDNY runners with elite runner Ryan Hall.
Ahead of the NYC Marathon, FDNY runners from each borough stepped into elite runner Ryan Hall's shoes on Oct. 30, racing on a treadmill that moves at his Marathon speed – 4:46 per mile.
The FDNY runners included FF Ricardo Velazquez (Manhattan), FF Trey Piazza (Manhattan), FF Adam Lake (Staten Island), FF Will Hernandez (Queens), FF Danielle Altschuh (Brooklyn) and FF William Mulvihill (Bronx).

The Manhattan event was hosted by ASICS, who generously donated gear and funds to the FDNY Foundation to promote firefighter fitness.
The firefighters did an incredible job, keeping that pace for an average of three minutes apiece. FF Piazza was able to keep that pace for more than five minutes.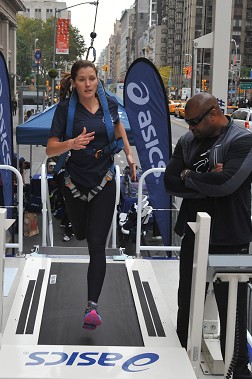 FF Danielle Altschuh takes part in the challenge.