FDNY Unveils Tools Purchased as a Result of Sandy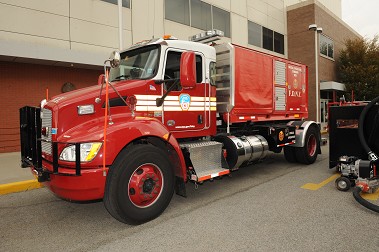 A Hook Truck that carries a 3,000 GPM Hytrans High Volume Pumps.
The FDNY unveiled dozens of new tools purchased as a result of Superstorm Sandy, including equipment, gear and boats on Oct. 30 at the Fire Academy.
"Last year [during the storm] we did a great job, this will help us do a better job," Fire Commissioner Salvatore Cassano said.
The Department spent more than $6 million in strategic investments on equipment and training following the storm that hit on Oct. 29, 2012.
The new equipment includes, six high-axle, 2.5-ton vehicles that can function in 53-inch deep waters, one 13-foot long Swift Water Rescue POD filled with water rescue equipment for FDNY members, a Mass Casualty Incident POD containing equipment for addressing complex medical incidents, 40 boats designed and intended for operating in flooded city streets (including Rescue Connector Boats with pumps capable of moving more than 550 gallons of water per minute), two EMS Station Relocation Trailers containing tools and supplies needed to operate a temporary EMS station, among other tools.
FDNY members also received specialized training, including Department of Homeland Security sponsored Wide Area Search Classes, additional water rescue training and advanced courses in structural collapse response.
"We had been looking into purchasing these tools before Sandy, but the storm really showed us a need for them," Special Operations Command Chief William Seelig said. "This gives us more tools to bring to the game."
During Superstorm Sandy, FDNY fought more than 94 serious structural fires, responded to 5,681 medical emergencies and rescued more than 500 New York City residents.