Engine 280/Ladder 132 Centennial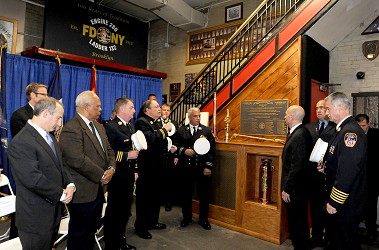 A plaque is blessed to honor the Engine 280/Ladder 132's centennial.
FDNY members past and present gathered at the Brooklyn quarters of Engine 280/Ladder 132 on Oct. 24 to celebrate the firehouse's 100 years of service.
"Generations of captains, lieutenants and firefighters have called this firehouse home," Fire Commissioner Salvatore Cassano said. "There is a tradition of selfless sacrifice at this firehouse."
Chief of Department Edward Kilduff added, "It's always great to see the pride of former members coming back for an event like this."
During the ceremony, a plaque was dedicated to honor Firefighter Bernard Goldman, E-280, who died in the line of duty in January 1962.
His son, Steven, and many other members of the family, attended the event. They brought the firefighter's helmet, shield and three medals with them.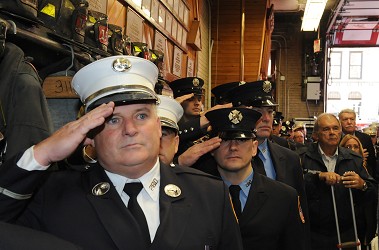 Many present and past members of the firehouse attended the ceremony.
After recalling numerous visits to the firehouse, he said that after his father died, the members came together to support their family: "I will always remember how kind the members here were to my mom, sisters and me."
A plaque also was dedicated to honor a 15-year-old firefighting enthusiast and firehouse friend, Honorary Firefighter Thomas McAnuff, who died in February 1955.
His brother, Owen, attended the event with several other family members.
"We're humbled and honored to be here today," he said. "This is a great firehouse, thank you for your courage, resilience and sacrifice over the years."