FDNY Members Named Dominic Cumo Junior Firefighter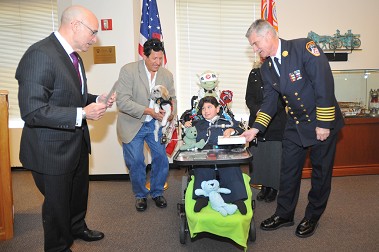 Fire Commissioner Salvatore Cassano and Chief of Department Edward Kilduff administer the Oath of Office for Dominic Cumo.
Members of the FDNY gathered at Headquarters on Oct. 24 to name 10-year-old Dominic Cumo as Junior FDNY Firefighter.
"He's truly an extraordinary young man with a huge heart and we're so happy you could join us today," Fire Commissioner Salvatore Cassano said. "As you know, it takes a very brave person to be a Firefighter, and I know that you're as brave as any Firefighter we've ever had."
After taking the Oath of Office and receiving his official badge, job sweatshirt and toy Dalmatian, Chief of Department Edward Kilduff introduced him to several FDNY Chiefs and asked the boy to choose where he wanted to be assigned – he chose the Fire Marshals.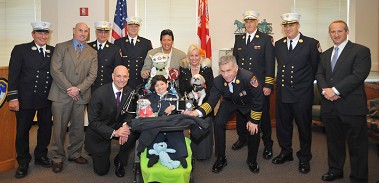 Dominic Cumo and his parents with the many FDNY officials who attended his swearing in ceremony.
"We are proud to have you as a member of this Department and wish you the best in your career," Chief Kilduff said.
Dominic is one of the youngest people ever diagnosed with amyotrophic lateral sclerosis (ALS), also called Lou Gehrig's Disease.
The boy and his parents, Shawnee and Matteo, are from Apple Valley, Calif. They also toured the FDNY Fire Academy and World Trade Center Memorial while in the city.