FDNY Helps Kick Off City Harvest Food Drive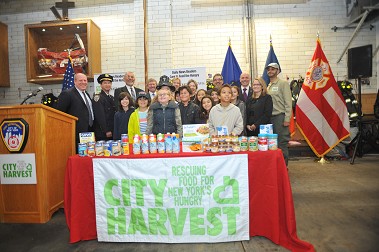 Fire Commissioner Salvatore Cassano joins organizers from City Harvest and the New York Daily News, as well as children from P.S. 41 at the Food Drive kick off event.
The FDNY joined City Harvest and the NY Daily News to kick off the 2013 Daily News Readers Care to Feed the Hungry Food Drive at Engine 7/Ladder 1 in Manhattan.
"I believe no place has more generous people than New York City," Fire Commissioner Salvatore Cassano said. "We're joining together for the same important goal, to feed the hungry."
Those interested in donating can drop off non-perishable food products at any FDNY firehouse until Jan. 10, 2014. Other drop-off locations include City Harvest offices, Modell's Sporting Goods stores, MCU branch locations and NYPD police precincts.
The Drive garnered one million lbs. of food last year. And organizers said they want to collect even more this year.
Among those attending the kick off event were students from P.S. 41, who collected more than 6,000 lbs. of food last year.