Jet Blue Paints Airplane to Honor FDNY and the FDNY Foundation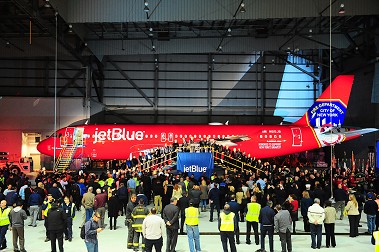 The new Jet Blue plane painted to honor the FDNY and FDNY Foundation.
Jet Blue Airlines dedicated one of their Airbus 320s in honor of the FDNY and FDNY Foundation, calling it 'Blue Bravest," and unveiled it at JFK Airport on Oct. 23.
"This is the most visible sign of how much they care about the Department," said Fire Commissioner Salvatore Cassano. He noted how the airline helped transport dozens of FDNY members to help in the aftermath of Hurricane Katrina.
"You have helped our members perform their outstanding work. This [airplane] is a true symbol of the Department's strength and resolve."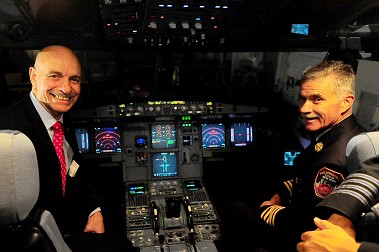 Fire Commissioner Salvatore Cassano and Chief of Department Edward Kilduff in the cockpit of the new FDNY-themed plane.
The FDNY-red plane features the Department's logo on the tail. It will travel to various locations where Jet Blue flies.
Jet Blue is a great supporter of the FDNY Foundation, donating each year to support fire safety education and training.
"You keep us safe," said Jet Blue CEO Dave Barger. "This isn't just a paint scheme, it's a partnership, a tribute to the City of New York."