EMS Promotions and Graduation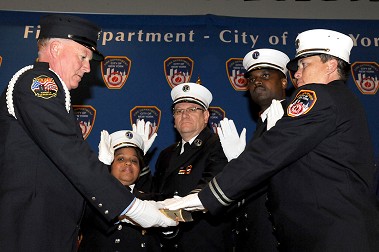 The four Deputy Chiefs are promoted
FDNY members gathered at Fort Hamilton in Brooklyn on Oct. 23 to celebrate the promotion of four Deputy Chiefs and the graduation of 52 paramedics.
"You have all worked extremely hard to get here," Fire Commissioner Salvatore Cassano said. "Each of you shows compassion that can make a difference in someone's life."
The four promoted members have nearly 90 years of experience in emergency medical services.
"The Department is clearly stronger and more capable because of all of you," Chief of Department Edward Kilduff said.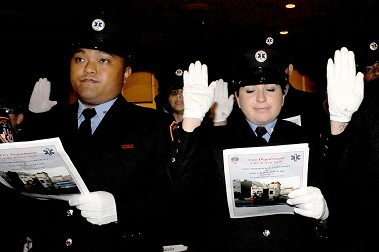 The paramedics take the Oath of Genevea.
The diverse group of graduates speaks many languages, including Spanish, Haitian-Creole and Russian. They will be assigned to various units throughout the city.
The class valedictorians were Paramedics Ari Nathanson and Namwu Kim.
"A lot of teamwork and hard work got you here today," Chief of EMS Abdo Nahmod said. "I'm proud of you all today."
All the promoted members and graduates will be assigned to units throughout New York City.