FDNY Members Honor Three Members Killed in the Line of Duty
Three plaques dedicated to Firefighters Samuel McMahon, William Moran, and James O'Dwyer at Engine 74.
FDNY members from Engine 74 remembered three members killed in the line of duty on Oct. 18 in a plaque dedication ceremony in Manhattan.
"Because of all of you putting these three names on the wall, their legacy will live on," Fire Commissioner Salvatore Cassano said. "People who come through your firehouse will know their sacrifice."
Firefighters Samuel McMahon, William Moran, and James O'Dwyer were honored, all from Engine 56 – which was once housed in the current quarters of Engine 74.
Firefighter McMahon died in 1889 from injuries sustained while exercising the horses that were used to pull apparatus and was run over by the tender. Firefighters Moran and O'Dwyer died in 1926 from injuries sustained from a vehicle accident while the company was rushing to a fire.
"These plaques serve as a reminder that the sacrifices made by our members will never be forgotten," Manhattan Borough Commander Chief John Sudnik said. "They're a lasting piece of history."
Many of Firefighter O'Dwyer's family attended the event. The firefighter, an immigrant from Ireland, was brothers with New York City Mayor William O'Dwyer (1946-50).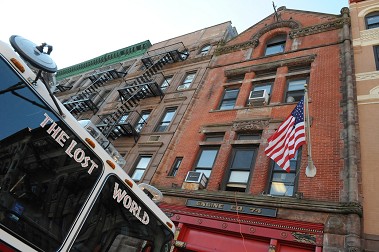 The quarters of Engine 74, which is the former home of Dr. Harry Archer.
"This firehouse is a holy place – a shrine for my family," said Liam O'Neil, the grandson of Firefighter O'Dwyer from Dallas, Texas. He read personal family letters about the tragedy that described Firefighter O'Dwyer as "a force that kept our family together."
Firefighter O'Dwyer's wife was pregnant when the accident occurred, and gave birth to Mr. O'Neil's mother, Joan, three months later.
"Making sense of his life made mine make more sense," Mr. O'Neil said.
He presented the firehouse with a photo of his father and several other firefighters on apparatus outside the firehouse.
Capt. Frank Farrington, who led the research behind the project before he retired in 2012, said he had a car accident at the same intersection where Firefighters Moran and O'Dwyer lost their lives, making the endeavor more personal.
He thanked the O'Dwyer family for attending the ceremony, saying, "This is not only a welcome back, but a welcome home."
The firehouse itself also is historic. It was the residence of Dr. Harry Archer, FDNY Medical Officer and honorary Battalion Chief, who responded to large fires from the location to treat firefighters and civilians. He received several medals for his heroism and today a prestigious FDNY Medal bears his name.
Upon his death, he willed his home to the FDNY, requesting that it always house a working fire company.
After speaking of the history of the firehouse and indicating that Dr. Archer may have known all three of the men honored, Capt. Ciro Napolitano added, "Working here has always been a great honor. The firefighters here make being a captain a wonderful job."