FDNY Remembers 23rd Street Fire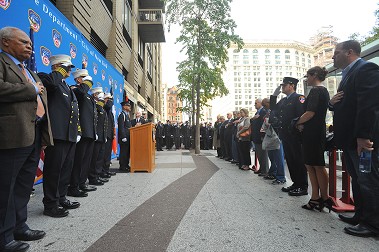 Family and retired firefighters were among the large group attending the ceremony marking the 47th anniversary of the 23rd Street fire.
The lives of 12 FDNY heroes were remembered on Oct. 17, during a ceremony marking the 47th anniversary of the tragic 23rd Street fire in Manhattan.
"Ceremonies like this demonstrate what the Department is all about," Fire Commissioner Salvatore Cassano said outside the site of the fire on at 23rd Street and Broadway. "We see the Department – this job – is bigger than any one of us. Together, we keep the memory of those brave firefighters alive."
The 5-alarm fire was the single worst loss of New York City firefighters in the line of duty prior to Sept. 11, 2001.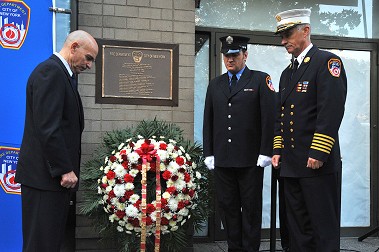 A wreath was laid at the plaque on 23rd Street and Broadway by Fire Commissioner Salvatore Cassano, Chief of Department Edward Kilduff and Firefighter Brian Finley, whose grandfather, Lt. John Finley, was killed at the fire.
Twelve members of every rank – from Deputy Chief to probationary firefighter – were killed when the ground floor of the Wonder Drug store collapsed. The fire originated in a basement storage area, which was concealed by a four-inch thick cinderblock wall, illegally constructed by the building's previous owner.
During the ceremony a wreath was laid to honor Deputy Chief Thomas A. Reilly and Firefighter William F. McCarron, both of Division 3; Battalion Chief Walter J. Higgins of Battalion 7; Lieutenant Joseph Priore, Firefighter James V. Galanaugh, Firefighter Joseph Kelly, Firefighter Daniel L. Rey and Firefighter Bernard A. Tepper, all of Engine 18; and Lieutenant John J. Finley, Firefighter John G. Berry, Firefighter Rudolph F. Kaminsky and Firefighter Carl Lee, all of Ladder 7.

"This ceremony speaks to our tradition, history and legacy," Chief of Department Edward Kilduff said. "Everyone sees – 47 years later – what happened here and the sacrifices made here. We will never forget them."