FDNY EMT Saves His Own Father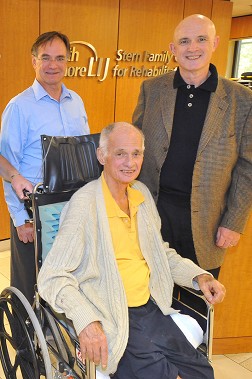 EMT Ed Tweedy (brown jacket) and Thomas Tweedy (blue shirt) with their father, James Tweedy, the day he was released from the North Shore LIJ Hospital.
FDNY EMT Ed Tweedy has followed an atypical career path – he graduated from the Merchant Marine Academy, worked in shipping and commodities, ran a hedge fund and worked for a federal commission that went after market manipulators before joining the FDNY in 2012, at the age of 60.
Yet despite his many professional successes, his biggest accomplishment might just be saving his father's life.
James Tweedy, 83, had broken his hip and was recuperating at the North Shore LIJ Stern Family Center for Rehabilitation in September when two of his six children – EMT Tweedy and Tom Tweedy, Mayor of Floral Park, Long Island – stopped to visit.
The center was busy, as a conference brought more people than usual into the facility. Both sons noticed their father was acting out of character that day. He complained that he was hot and wanted to get some air outside, so they moved him to a wheelchair and headed toward the lobby.
Just outside the door of his room, James went into cardiac arrest.
They quickly turned around and dozens of nurses and doctors arrived to help.
"He was gray and coding – he wasn't breathing and had no pulse," EMT Tweedy said. He immediately called for a defibrillator and began administering CPR.
In the meantime, Tom helped move his father's roommate to the hallway and rearranged furniture to help the medical team do their work.
"It was a choreographed chaos, it was remarkable," Tom Tweedy said. "Eddy was calm and steady and clinical. Just watching him, I felt a remarkable calm – he's been amazing in everything he's done and I had confidence in his training as an EMS professional."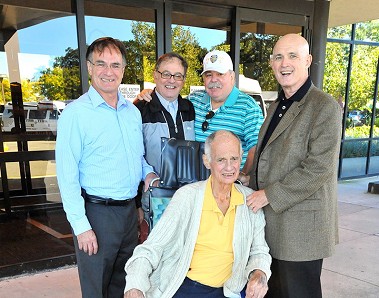 James Tweedy (seated) with his family outside the hospital. (L to R standing) Thomas Tweedy, James Tweedy (James' son), Matt McGeever (James' son-in-law, married to his daughter Anne Marie) and EMT Ed Tweedy.
EMT Tweedy estimates that he started chest compressions within 10 seconds of his dad going into cardiac arrest and administered the defibrillator within two minutes.
"We got his pulse back quickly," he said, joking, "Nothing says 'I love you' like crushing your father's rib cage."
When his dad awakened, the medical team was preparing to move him down the hill to the hospital and he started to panic. Tom told him: "Don't worry, you're fine, you have one heck of a story to tell and, once again, Eddy's the hero."
James immediately went into surgery and received three stents. Three hours later, he was enjoying a turkey dinner.
They were told victims of this type of cardiac arrest rarely survive, let alone return to normal so quickly. And they gave tremendous credit to the medical team at North Shore LIJ.
"He has humility and it's not a false humility – he really is a man for others and he showed it in an outstanding way that day," Tom said. "We were lucky."
Both he and his brother were overwhelmed at the set of circumstances which came together that day to ensure his father's life was saved.
"It's amazing where one path takes you," EMT Tweedy said. "If I was still working in Washington, this wouldn't have happened."
He said he decided to join the Department after talking with numerous friends who are paramedics and EMTs and love their work. He said he hopes to someday become an FDNY paramedic.
"This is my most rewarding job, by far," he said. "You have to give back."