FDNY Memorial Day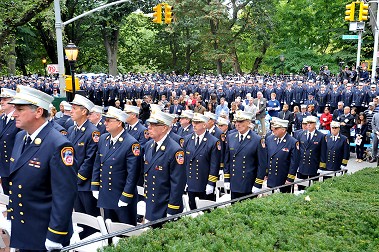 Thousands of members attended Memorial Day, to honor the 10 active FDNY members who died in the last year.
The FDNY honored the 10 active members lost in the last year during FDNY Memorial Day at the Firefighter's Monument in Manhattan. The ceremony also marked the 100th anniversary of the Monument on Riverside Drive.
"As our hearts are once again heavy with sorrow as we remember the passing of those we honor today," Mayor Michael Bloomberg said. "They're also filled with pride as we recall their unflinching readiness to put themselves in harm's way, to bravely risk their own safety so that others might live."
Thousands of firefighters and EMS members attended the ceremony honoring EMT Alan B. Guss, Station 43; EMT Michael C. Castellano, Station 58; EMT Joseph V. Schiumo, Station 20; Paramedic Ruben I. Berrios, Station 20; Fire Marshal Martin J. McHale, Brooklyn Base; FF Charles L. Jones III, Ladder 165; EMT Eladio Lamboy-Torres, Station 22; EMT Bernard (Brian) M. Nolan, Station 40; EMT Thomas S. Loggins, Station 40; and EMT Ronald T. Coyne, Battalion 38.
"We will always stand by our families and we make certain they know how much their loved one meant to all of us," Fire Commissioner Salvatore Cassano said. "No matter their role or rank, every person who wears the FDNY uniform is an important part of our family."
Chief of Department Edward Kilduff said: "There is no greater message to send to the families of the 10 members honored than to say we value your family member's contributions to the Department, and we appreciate the sacrifices their families have made. It is our obligation, steeped in tradition, to support you and insure that you remain part of the FDNY family."
The ceremony also marked the centennial of the Firefighter's Monument.
The concept for the memorial was first mentioned in 1908 by Reverend Henry C. Potter, as he spoke at the funeral of Deputy Chief Charles Kruger. For 5 years, many New Yorkers donated their time, effort and money to create this tribute to the Department.
It is the largest monument to a single group outside the military.
This was the 106th Annual Memorial Day ceremony.