Fire Prevention Recognition Ceremony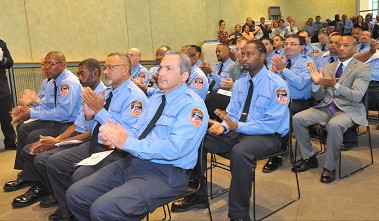 The Fire Prevention Inspectors of the Year.
The FDNY kicked off Fire Prevention Week by honoring those on the front lines, the Department's Fire Prevention Inspectors in the annual Fire Prevention Recognition Ceremony at FDNY Headquarters on Oct. 7.
"Everyone in this room keeps New York safe," Fire Commissioner Salvatore Cassano said. "You all fight fires in the most efficient, safest way possible – by preventing them."
Members of various units within Fire Prevention were honored for their hard work throughout the year, including, Jack Keyser, Gabriel Sylvester, Leroy Dyer, Barry Parmanan, Aleksandr Skor, Eugene Levintov, Ian Sampson, Bier Babulall, Quamrul Haque, Wesley Sterling, Manuel Costales, Gregory French, Charles Simmons, Jose Colon, John Dove, Thaddeus Jackson, Luis Ortiz, Hengtian Lin, Mohammad Hossen, Dexter Washington, Glenn Mendez, Alfredo Bautista and Matthew Guido.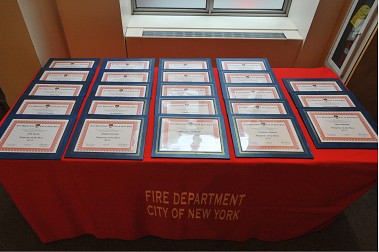 The Fire Prevention Awards.
"You know what customer service and public service means," Chief of Department Edward Kilduff said. "And you represent a larger corps of very professional, dedicated people."
Fire Prevention inspects buildings throughout the five boroughs, keeping New Yorkers and FDNY members safe.
"Thank you for continuing to do a great job, every day," Chief of Fire Prevention Thomas Jensen said.