Ladder 49 in the Bronx Celebrates 100 Years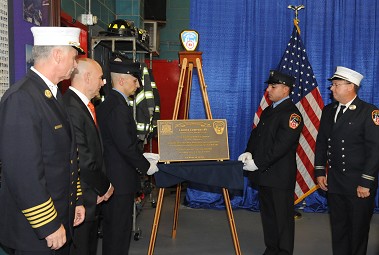 A plaque is unveiled honoring Ladder 49's centennial.
FDNY members past and present gathered at Ladder 49 on Oct. 3 to celebrate the firehouse's centennial.
"Although all centennials are incredible, we are not celebrating a number today," Fire Commissioner Salvatore Cassano said. "We are celebrating every day you go out that door to help someone in need."
The firehouse is first-due to Yankee Stadium. During the ceremony, they remembered two members who have died in the line of duty, FF George Williams, who died in World War II as a member of the U.S. Army in 1946, and FF James Hipple, who was killed while operating at a fire in 1965.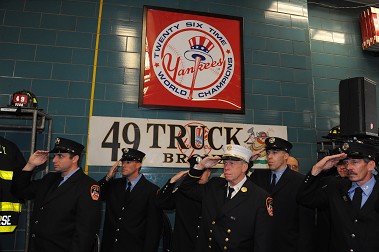 Past and present members attended the ceremony honoring Ladder 49's centennial.
"You have a lot to be proud of," Chief of Department Edward Kilduff said. "This ceremony is all about the members who have served here over the years and made it what it is today."
During the ceremony, Bronx Borough President Ruben Diaz presented the fire company with a Proclamation honoring the historic day.
"The finest traditions of the Fire Department have been passed down through the generations to make this the house it is today," Ladder 49 Capt. Kevin Kefer said. "I'm proud to be a member of this house."