[Share]
Published: September 27, 2013
FDNY Welcomes Two USMC Heroes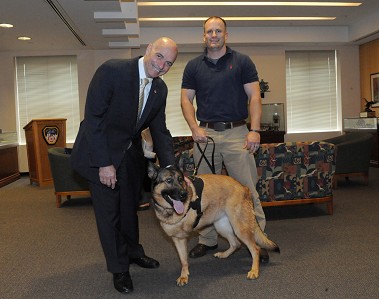 Fire Commissioner Salvatore Cassano (left) with Gunnery Sgt Chris Willingham and Lucca.
Department members were honored to welcome U.S. Marine Corps (USMC) Gunnery Sergeant Chris Willingham and Lucca, K458, to FDNY Headquarters on Sept. 27.
Lucca is a specialized search dog trained to find explosives. She served for eight years in the USMC and led soldiers on 400 patrols during her three deployments, with zero service member injuries or fatalities reported on her missions.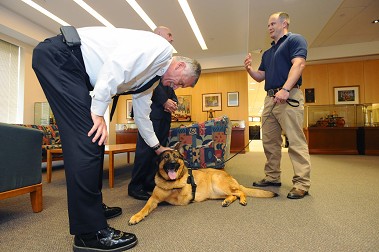 Chief of Department Edward Kilduff pets Lucca.
In March 2012, on a patrol in Afghanistan, she was hit by a roadside bomb and lost a leg.
She is now retired and living with Gunnery Sgt. Willingham and his family.