[Share]
Published: September 26, 2013
Engine 81/Ladder 46 Celebrates 100 Years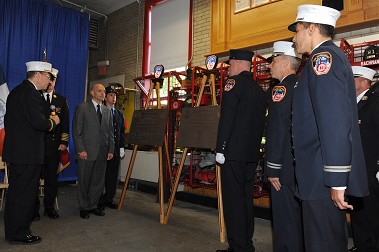 Plaques dedicated to celebrate the centennials of Engine 81 and Ladder 46.
Firefighters from Engine 81/Ladder 46 in the Bronx celebrated their centennial on Sept. 26.
"Your dedication and willingness to go into danger, to protect others and to make the next generation safer has never waivered," Fire Commissioner Salvatore Cassano said.
During the event, the members also paid tribute to Firefighter Eugene Studer from Engine 81, who lost his life in 1944, fighting in World War II. The plaque's Honor Guard included two former U.S. Marines from the firehouse.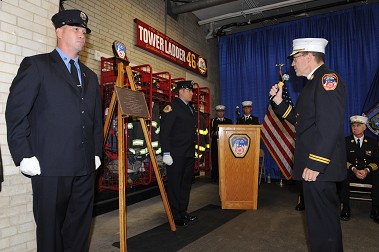 Former U.S. Marines from the firehouse are Honor Guard for a plaque dedicated to Firefighter Eugene Studer, Engine 81, who died in World War II.
"You are part of the history of the Fire Department," Chief of Department Edward Kilduff said. "And you can see the pride when you pull up to the firehouse. It's wonderful."
Capt. Michael Quevedo, Engine 81, added, "It's been a privilege for me to work here. We are setting the tone for the next 100 years."