[Share]
Published: September 24, 2013
Engine 286/Ladder 125 Celebrate Centennial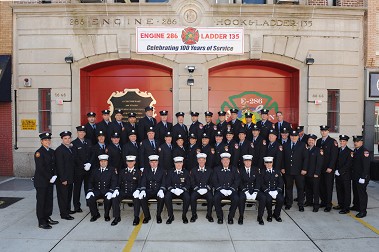 The members of Engine 186/Ladder 135.
It was a happy day for the members of Engine 286/Ladder 125, who celebrated 100 years of service to Glendale, Queens, on Sept. 24.
"Every time you go out the door on a run, you're making good on a promise made a century ago, that no matter the emergency, no matter the danger, this Department will always be there when needed," Fire Commissioner Salvatore Cassano said.
During the centennial, a plaque honoring Firefighter George Schmitt, who lost his life while on duty in 1943, also was dedicated. The firefighter was one of six members from the house who have died in the line of duty over the last 100 years.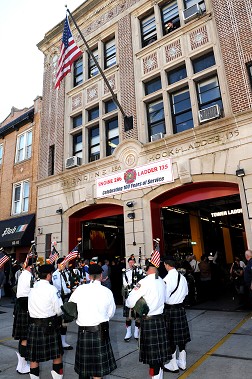 Pipers play to celebrate the firehouse's centennial.
"You make my life easy," said Queens Borough Commander Robert Maynes. "I hope the next 100 years is as successful as the last 100."
Numerous past and present firefighters attended the ceremony.
Capt. Bill Reddan from Engine 286 praised the current members as being the best in the Department, and welcomed the retirees, saying "Your tradition and pride is safe with these men and women."