[Share]
Published: September 23, 2013
FF Thomas Brick Scholarships Presented to FDNY Members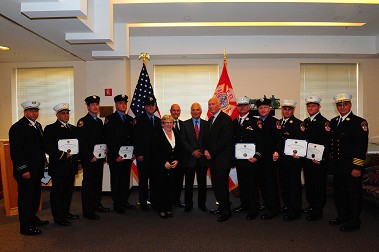 The Brick family, Salvatore Bommarito and the 10 scholarship winners.
For the tenth year FF Thomas Brick Scholarships were presented to 10 FDNY members on Sept. 23 at FDNY Headquarters.
Sponsored each year by Salvatore Bommarito and his family, the scholarships help FDNY firefighters pursue higher education needed to gain higher ranks within the Department.
"Sal's idea to improve your lives is improving everyone's lives," Fire Commissioner Salvatore Cassano said. "Each of you is making the Department safer."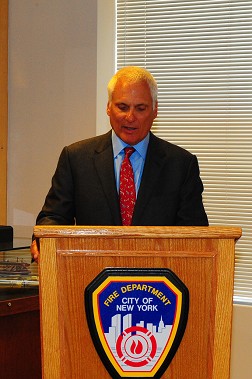 Salvatore Bommarito addresses the group.
The scholarships are named in honor of Firefighter Thomas Brick from Ladder 36, who made the Supreme Sacrifice on Dec. 16, 2003, while operating at a four-alarm fire in upper Manhattan.
Since the program started in 2004, they have funded 71 scholarships totaling over $200,000.
This year's scholarship recipients included Battalion Chief Frederick Mallett, Battalion Chief Anthony Saccavino, Battalion Chief Steven SanFilippo, Captain John Conroy, Captain Christopher Reginella, Lieutenant Frank Miller, Fire Marshal Michael Kavanagh, Firefighter Kevin Candido, Firefighter Daniel Crowley and Firefighter Christopher Horgan.