[Share]
Published: September 20, 2013
Engine 289 Celebrates Centennial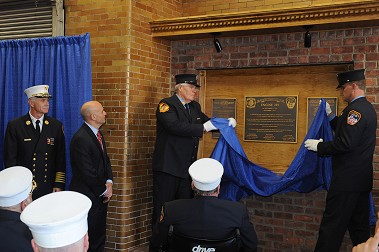 The centennial plaque is unveiled.
Engine 289 – the Corona Tigers – turned 100 years old on Sept. 20.
"When 289 first opened its doors, it was a very visible symbol that the New York City Fire Department was protecting this neighborhood – every day – no matter what," Fire Commissioner Salvatore Cassano said.
Chief of Department Edward Kilduff added, "Thank you for what you represent in the Fire Department – stability, courage and strength. You do a great job taking care of people."
Many remarked that the firehouse – which responds to landmarks like Citi Field and the Billie Jean King National Tennis Center – is a great place to work. And numerous past and present members attended the ceremony, including some with more than 40 years on the job.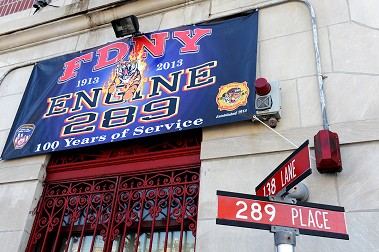 Outside the firehouse in Corona, Queens.
The engine shares its quarters with Ladder 138, which was put into service 15 years later.
"This is a great place to be a firefighter," Battalion Chief James Goelz, the fire company's former captain, said. "After [a tour] here, two things are guaranteed, you'll be tired and you'll feel fulfilled, because you helped people."