[Share]
Published: September 19, 2013
Ladder 43 Celebrates 100 Years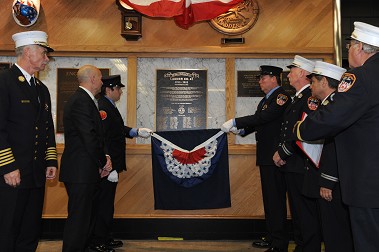 A plaque is unveiled marking the centennial of Ladder 43
Firefighters from Ladder 43 in East Harlem celebrated 100 years of service on Sept. 19.
"The things we see most at a centennial are the traditions of this job – bravery, commitment, dedication, sacrifice," Fire Commissioner Salvatore Cassano said. "They've been around long before any of us were members of the Department. They go back a century, and they're so important to our success today."
The fire company is known as one of the busiest in the city, recording more than 4,300 runs in 2012.
"This is a celebration of the contributions this firehouse has made to the community," Chief of Department Edward Kilduff said. "We're celebrating many layers of history."
When the company was first organized in 1913, it was in a firehouse with Engine 91. It was moved into its current firehouse, with Engine 53, in 1974. Several retired firefighters who had worked alongside Engine 91 before the move attended the centennial ceremony.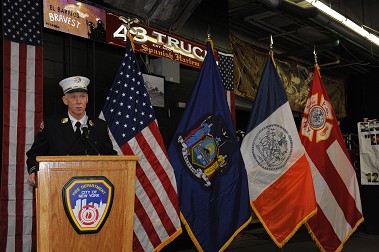 Capt. Ray Farrell, Ladder 43, addresses the crowd, calling the fire company "a good shop."
Capt. Ray Farrell, Ladder 43, commended those firefighters, noting, "It is because of you and the reputation you built that we are proud to be members of Ladder 43."
Calling it "a good shop," he also said that what makes Ladder 43 special is what the members do outside of work – like delivering toys to children in the hospital during the holidays, driving gifts to children affected by Hurricane Katrina and participating in the Special Olympics.
Many also noted that the firefighters befriended a national hero – US Navy Seal Lt. Michael Murphy, who was killed in Afghanistan in 2005. The Medal of Honor recipient spent a lot of time visiting with the firefighters and even wore an Engine 53/Ladder 43 patch on his uniform. The firehouse now has a memorial wall dedicated to the hero.
Capt. Al Hagan, who is now a union representative, added, "What makes this firehouse great are the people who protect each other and help one another on and off duty. Working here has a downside, you don't want to leave – ever."