[Share]
Published: September 12, 2013
99 Fire Officers Promoted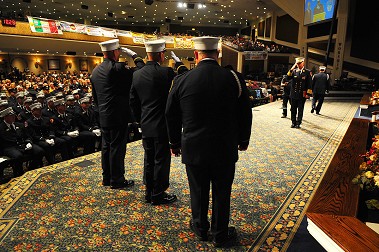 Chief of Department Edward Kilduff prepares to swear in the two new deputy chiefs, John Schof and George Healy.
The FDNY honored the legacy of those lost on Sept. 11, 2001, with a promotions ceremony ushering in a new generation of fire officers on Sept. 12.
"We were able to rebuild [since 9/11] because this Department is blessed to have the most dedicated members of any public service agency in the world," Fire Commissioner Salvatore Cassano said during the ceremony at the Christian Cultural Center in Brooklyn. "FDNY members will always go above and beyond to save lives."
Ninety-nine officers were promoted during the ceremony, including two deputy chiefs, 52 captains and 45 lieutenants.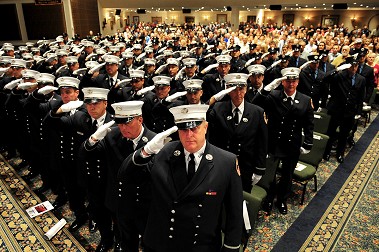 The 99 newly promoted fire officers.
"The Fire Department is all about service, when someone calls 911, that person needs help, and as new fire officers, preparation and training are key to our response," Chief of Department Edward Kilduff said. He also reminded the officers that they need to prepare to step up to their new challenge and plan for anything that they may face.
Together, the newly promoted members have more than 1,400 years of experience with the Department. They will be assigned to various units throughout the city.