[Share]
Published: September 10, 2013
Engine 73/Ladder 42 Celebrates 100 Years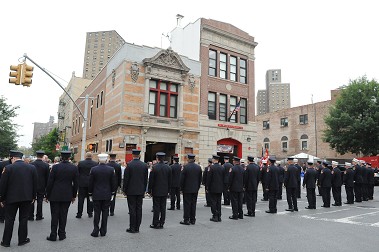 Firefighters outside the firehouse for the centennial.
The members of Engine 73 and Ladder 42 celebrated their firehouse centennials on Sept. 10 in the Bronx.
"Today we celebrate the work Firefighters have performed here for a century – the lives and property saved and the neighborhood and families you've protected," Fire Commissioner Salvatore Cassano said. "A firehouse is so important to a community; it's a symbol of strength and hope."
The ceremony also included the dedication of four plaques honoring members who have died in the line of duty, including Lt. Robert Davison (1951), Firefighter Henry Holster (1927), Firefighter Nathan Levine (1947) and Firefighter Patrick O'Keefe (1943).
The family of the firehouse members killed on Sept. 11, 2001, also were honored during the event, including Lt. Brian Ahern, Lt. Raymond Murphy and Firefighter Peter Bielfeld.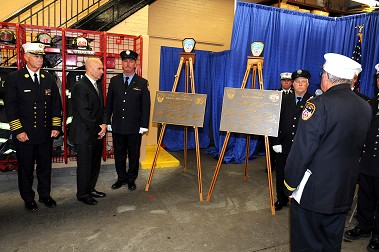 The centennial plaques are blessed.
"The common denominator over the last 100 years is service," Chief of Department Edward Kilduff said. "Every day you're running out the door asking, 'how can we help?'"
Lt. Joseph Berry, who served in the firehouse for 18 years before retiring in 2002, added, "I've had the pleasure and honor of learning so much from the members of this firehouse."
FDNY Chaplain Father Mychal Judge, who was killed on Sept. 11, 2001, gave his legendary final homily in the firehouse on Sept. 10, 2001, at the rededication of the house after a major renovation.
During the ceremony, many speakers harkened back to his impactful words:
None of us will be able to visualize or realize what the world will be like a hundred years from now. A hundred years from now, they won't know who the mayor was today, or who the commissioner was, or who the Chief of Department was…but the spirit, the life and the sacrifice of those men and woman will be remembered. And though they are gone, their names will live on in this Department forever.