[Share]
Published: September 05, 2013
Engine 287, Ladder 136, Battalion 46 Celebrate 100 Years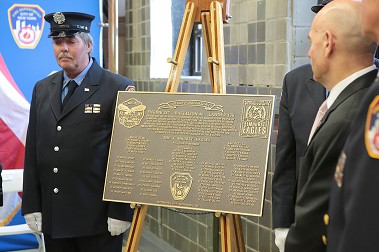 The centennial plaque is blessed at the firehouse.
Firefighters from Engine 287, Ladder 136 and Battalion 46, celebrated a milestone on Sept. 5 -- 100 years of service to Elmhurst, Queens.
"It's an important day for every single person who lived in this community then and now because a firehouse is such an important symbol in a community," Fire Commissioner Salvatore Cassano said. "The impact you've made is measured not only in the number of fires you've fought, but in the lives you've saved."
Chief of Department Edward Kilduff added, "The history of your unit is reflected in the history of the city."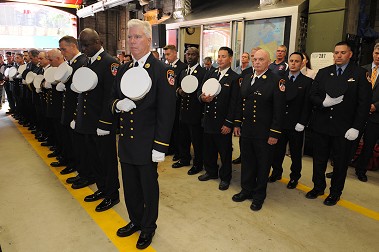 Past and present firefighters attended the ceremony.
Six members of the firehouse have won medals for valor in the last 100 years, and the companies have received multiple awards for outstanding rescues.
They also have lost six members in the line of duty, including FF Peter Farley (1949), FF Joseph Dugan (1954), FF Robert Dayton (1988), Capt. Wayne Smith (1996), FF Michael Cawley (2001) and FF Christopher Pickford (2001).
"This centennial is recognizing something that happened every day and night for 100 years, recognizing the men and women who risked their lives to protect Elmhurst, Queens," Capt. Robert Byrnes of Engine 287. "I am proud that I was a small part of it."