Labor Day Weekend Safety Tips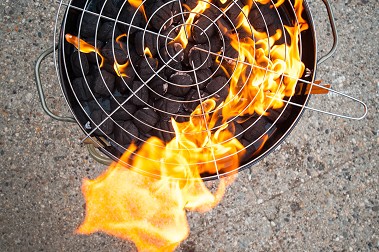 The Labor Day holiday is often seen as the unofficial end to summer. So if you choose to celebrate with an end-of-season bar-b-que, take a moment to review some helpful tips that will keep you, your family and friends safe.
Before Using Your Grill
- Check the tubes that lead into the burner for any blockage from insects or food grease. Push any blockage through to the main part of the burner.
- Inspect the propane hoses for cracking, brittleness, holes and leaks. NEVER use a flame to check for gas leaks.
- Inspect the propane tank. If it has dents, gouges, bulges, corrosion, leakage, or excessive rust, return the tank to the propane gas distributor.
- Move propane hoses as far as possible from hot surfaces and dripping grease.
- Have a qualified repair-person make all repairs – do not attempt it yourself.
Using Your Grill
- Use them outdoors ONLY. When the propane tank is connected, the grill must be kept outside. And NEVER use in any enclosed area (i.e. a trailer, tent, house, garage) as carbon monoxide can accumulate.
- Position the grill in an open area at least 10 feet away from buildings, railings and out from under eaves and overhanging branches.
- Use barbecue utensils with long handles to avoid burns and splatters.
- Wear short or tight fitting sleeves and use flame retardant mitts.
- Have a charged garden hose or bucket of sand available to extinguish any small grill flare-ups. Once lit, never leave a grill unattended.
- Never store a propane tank indoors or below ground level.
- Find a local propane distributor who will exchange an empty tank for a full one on the spot.
- When not in use, the propane tank valve must be turned to the OFF or CLOSED.
Transporting Full or Empty Propane Tanks
- Propane tanks should be secured in an upright position in the back seat of your car or bed of your truck, with transportation plugs on the outlet valve connection.
- Avoid having other passengers in the car, especially children. Never leave a propane tank unattended in your car.
Illegal Use of Grills
It is strictly prohibited and illegal in New York City to:
- Store or use a propane grill OR use a charcoal grill on the roof of any building.
- Store or use a propane grill on a residential property with a three or more family residence.
- Store or use a propane grill on the terrace or balcony of an apartment building.
** PLEASE NOTE: The use of portable outdoor patio fireplaces, patio hearths, fire pits and chimneys are illegal in New York City.