95 FDNY Paramedics and EMTs Graduate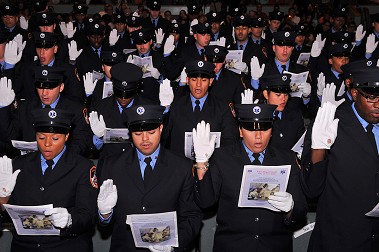 The paramedics and EMTs take the Oath of Office.
It was a day to celebrate as 95 new paramedics graduated from the EMS Academy on Aug. 30.
"You're providing that care as a crucial part of the best and busiest Emergency Medical Service in the world," Fire Commissioner Salvatore Cassano said during the ceremony at LaGuardia College.
He congratulated the class valedictorians, including Paramedics Joseph Colon and Ravivarman Kailayanathan, and EMTs Dexter P. Johnson and Mark Shilen.
"You are the future of this Department," Chief of Department Edward Kilduff said. "And I know we're in good hands."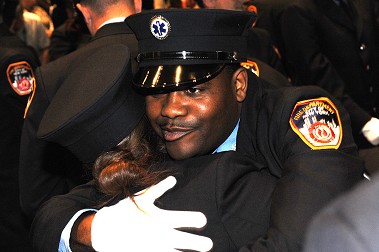 The EMS members will be assigned to units throughout the five boroughs.
Among the graduates were four who served with the Army National Guard, including Paramedic Robert Bonome and EMTs Thomas Gradzki, Joseph Laporte and Michael Trimis.
During the ceremony, Paramedics Carlos Lillo and Ricardo Quinn, who died at the World Trade Center in 2001, also were remembered along with the 341 other FDNY members who died that day.
"The work of FDNY EMS members is not easy – the job is challenging, dangerous and you only have one chance to get the job done," Chief of EMS Abdo Nahmod said. "But it's the best job in the world."