Know the Signs?: How to Prevent CO Poisoning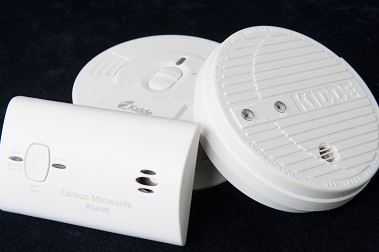 Smoke and CO Alarms
It's easy to assume carbon monoxide (CO) poisoning is more common in winter months, but the colorless, odorless gas can affect your family just as easily in the summertime.
And after several instances of CO exposure in New York City homes and public places in recent days, the FDNY wants to remind all New Yorkers about how to recognize the signs and symptoms to stay safe.
What is CO?
Carbon monoxide (CO) is a colorless, odorless, tasteless and toxic gas that can cause death.
Fuel-burning appliances, vehicles and tools can be a source of CO, such as gas ranges and ovens, charcoal grills and gas lawnmowers.
What are the health effects?
CO displaces oxygen in your bloodstream. When enough oxygen is displaced, you suffocate.
Exposure to low concentrations can cause flu-like symptoms, like headaches, fatigue, nausea and drowsiness. Exposure to high concentrations can cause throbbing headaches, breathing difficulties, confusion, loss of consciousness, cardiac problems and death.
Those especially sensitive to CO exposure include senior citizens, infants, young children, pregnant women and people with breathing or heart problems.
How can you prevent CO poisoning?
You can prevent being a victim of CO poisoning by having a working CO alarm with a UL Mark in your home (combination smoke/CO alarms are available). You should place CO alarms on every floor of your home and in bedrooms – and be sure they always have batteries.
Be sure to have your home-heating systems, fuel-burning appliances, flues and chimneys inspected, cleaned and tuned up annually by a licensed professional. And personally inspect them regularly.
And be proactive. Do not burn charcoal or operate gasoline-powered engines (generators, cutting saws) indoors, including in garages and basements. And do not idle your car in the garage.
What to do if your CO alarm sounds
If your CO alarm activates, open windows to ventilate the area, check if any members of the household are experiencing flu-like symptoms, evacuate everyone – including pets – from the home, and call 911.