FDNY Receives Battery Donation from Duracell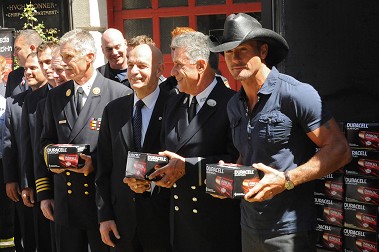 FDNY members, including Fire Commissioner Salvatore Cassano, Chief of Department Edward Kilduff, Chief of Training Thomas Galvin and Director of Fire Safety Education Anthony Mancuso are joined by musician and actor Tim McGraw.
FDNY members were joined by representatives from Duracell, including spokesman, musician and actor Tim McGraw, on Aug. 15, to announce a donation to the FDNY Foundation to support fire safety education.
"Duracell has been a strong supporter of the FDNY for years," Fire Commissioner Salvatore Cassano said during the event at Engine 33/Ladder 9 in Manhattan. "We know this partnership has made a huge difference in saving lives."
The brand donated 85,000 9-volt batteries, 58,000 Quantum batteries and $50,000 to the Foundation.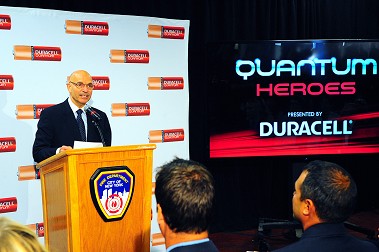 Fire Commissioner Salvatore Cassano speaks to the crowd.
The batteries and money will be used by the FDNY's Fire Safety Education team, which promotes various initiatives aimed to keep New Yorkers fire safe.
"We're putting power in the hands of the most powerful heroes who save lives every day," Jeff Jarrett, Marketing Director for Duracell.
Tim McGraw added, "It's exciting for me to be a part of this – it's a way to use my celebrity to help others."