FDNY Teams to Participate in Dragon Boat Races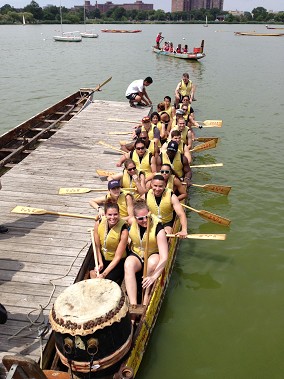 FDNY members practice in a dragon boat at the Meadow Lake Boathouse.
FDNY members are gearing up to take part in a sport with a 2000 year history.
Approximately 30 FDNY members, mostly paramedics and EMTs, have been training for weeks to participate in several races as part of the Hong Kong Dragon Boat Festival on Aug. 10 and 11 in Flushing Meadow Park.
"Every time they finish practice they are excited to go out again," Team Manager, EMS Lt. J.P. Dimen said. "They're like little kids – it's addictive."
FDNY teams will compete in four races during the festival, including 250-meter and 500-meter Heritage races, 250-meter Municipal Cup against other New York City agency teams, and the Womens' Invitational.
"I never, in a million years, thought I'd be doing this," said one of the team captains, Paramedic Julie Keshemberg, Station 7. "I haven't been on a team since high school, so I'm having a lot of fun."
She said most of those participating have no dragon boat or even rowing experience, but all of them are fitness minded. They are constantly working on their speed and technique, "You need to have your paddles in sync, hitting the water at the same time like a metronome. It's like synchronized swimming with paddles."
But, even though all team members are giving up their summer Saturdays to train, often leaving work at 7 a.m. and going straight to practice, Paramedic Keshemberg said: "It's a great department sport, there's great camaraderie. You can see the dedication – everyone's putting 100 percent effort."
And the team has a good shot at winning many of their races.
"Their technique is excellent," Lt. Dimen said. "We look good. Can't wait to see how we do."