FDNY Remembers the 35th Anniversary of the Waldbaum's Fire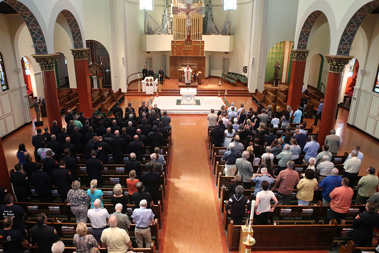 The service remembering the six brave firefighters who died 35 years ago at the Waldbaum's fire.
FDNY members past and present gathered in Brooklyn on Aug. 2 to remember the six heroic firefighters who died at the Waldbaum's fire 35 years ago.
More than 100 people, including victims' families and firefighters, made the solemn walk from the quarters of Engine 276/Ladder 156 to the Church of St. Brendan's for a memorial service to remember Lt. James Cutillo B-33; FF Charles Bouton, L-156; FF Harold Hastings, B-42; FF James McManus, L-153; FF William O'Connor, L-156; and FF George Rice, L-153.
"These were brave men," said retired Lt. Tom Higgins, who was a probationary firefighter at Ladder 156 when he responded to the fire.
He said he was inside the store when the collapse happened, and saw firefighters running through the store aisles and toward the exits before he knew what happened.
He said, "I'm a fortunate man, and I haven't missed a year of this service. The memory of that day will never go away."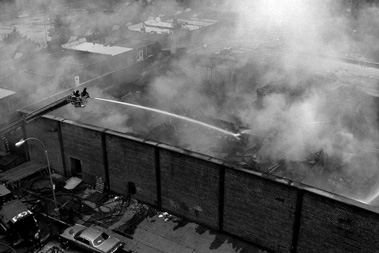 A photo from the tragic fire in 1978.
The fire began in the morning of Aug. 2, 1978, as crews were renovating the supermarket, and quickly escalated to a 4-alarm. Less than an hour after the fire was first reported, nearly 20 firefighters were on the roof when the central portion gave way and 12 fell into the fire below.
In total, 34 firefighters, one emergency medical technician and one police officer were injured in the fire.
Retired Firefighter Donald King responded to the fire as a member of Ladder 156 and was among those who fell through the roof.
He said he remembered hearing a cracking sound before the roof gave way. The fall left him unconscious for short time, but when he awakened, he remembered hearing the screams of other firefighters. He sustained a dislocated elbow and multiple burns.
"Every day I remember every one of the men who died in that fire," he said. "They were like brothers to me."