FDNY Probationary Firefighters Sworn in at the Academy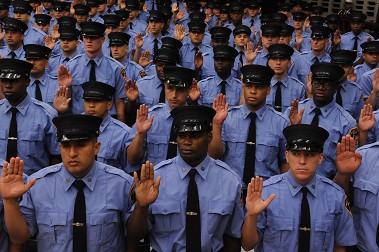 The new probationary firefighters are sworn in. On stage was Probationary Firefighter Connor Geraghty, son of Deputy Chief Edward Geraghty, who died on Sept. 11, 2001.
The FDNY celebrated its next generation on July 29 as 318 new probationary firefighters were sworn in at the Fire Academy.
The new class was hailed as the most diverse to attend training in the Department's history – with 66 percent of the class identifying as people of color.
"I am confident each of you will continue the tradition of valor and service," Mayor Michael Bloomberg said.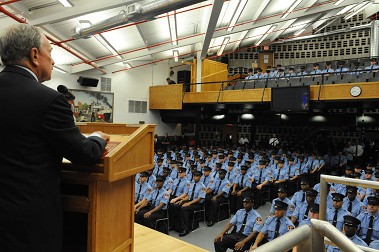 Mayor Bloomberg addresses the new probationary firefighters
The probationary firefighters will take part in an 18-week training program, which will include fire suppression and medical response (i.e. high-rise fire simulator, subway simulator) hazmat training, collapse and confined space rescue training and auto extrication. They also will learn about the fire code and building inspection, as well as procedures for engine and ladder operations.
"The next 18 weeks will be the most difficult of your life and you will be pushed like never before," said Commissioner Cassano. "You remind every one of us about the hard work it takes to be a New York City firefighter."
Twenty-seven percent of the class is African-American, 37 percent Hispanic and two percent Asian. The class includes eight women – the most women in a Probationary Firefighter class since 1982.