44 Fire Officers Promoted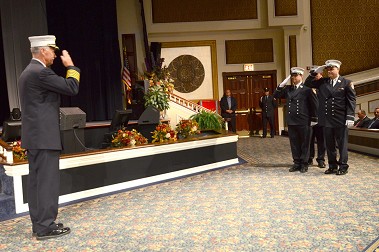 Brothers James and Jack Halaby are promoted to captain.
Banners of congratulations covered the walls of the Christian Cultural Center on July 25 to celebrate the promotion of two deputy chiefs, 10 captains and 32 lieutenants.
"Today's a day to reflect on everything you've done to reach this moment," Fire Commissioner Salvatore Cassano said. "Whatever your new role, keep up the great work that brought you here. You make the Department what it is."
The promoted members have 570 years of experience with the Department.
"You are all the leaders of a team that resolves crises," Chief of Department Edward Kilduff said. "Firefighters are looking for leadership and you bring experience to the table."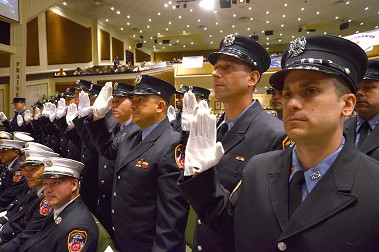 The new lieutentants take the Oath of Office.
Among those promoted to captain were brothers James and Jack Halaby.
Capt. Jack Halaby, who also celebrated his 20th anniversary with the Department on July 25, said, "To be promoted is an honor, to be promoted with my brother makes it that much sweeter and more special."
Capt. James Halaby, a 23-year veteran of the FDNY, said he was the one who urged his younger brother to join the Department, noting, "I'm happy to see him succeed in everything he does.
"The Fire Department is a great family to me, but he's blood. To do anything – even playing checkers – with him is great, but this, today, is a real honor."